Meet Minor Food brands in Malaysia International Retail and Franchise Exhibition (MIRF)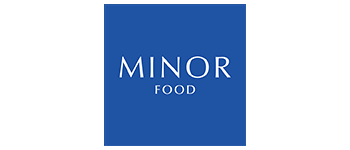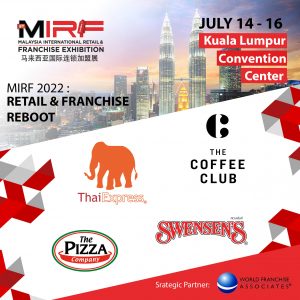 14 – 16 July, 2022
Kuala Lumpur Convention Center
Malaysia
The Minor Food Group Public Company Limited is one of today's largest casual-dining and quick-service restaurant companies with over 2,200 outlets operating in 27 countries worldwide. As a constant forerunner and innovator in the ever-changing landscape of the global food service industry that always turns our eyes towards the future to stay on top of the game, ahead of the pack while leading change for the better, we are unwaveringly passionate and committed to delivering our customers catering-to-your-taste-buds food and tailored-to-your-exact-needs service, a winning combination that conjures up customers' superlative dining experience uniquely capable of enhancing all the senses, with an aim to become a global foodservice and restaurant chain operator of world leading brands that provides 100% satisfaction to even the most discreet, discerning stakeholders while helping in maximising their values.
Minor Food Brands:
Thai Express
A Thai Culinary Journey for Everyone
ThaiExpress has been the Singapore's favourite Thai casual dining restaurant since 2002. The brand has captured the hearts of food lovers with its original Thai recipes and delicious Thai comfort food featuring timeless classics and modern creations that are satisfying to the palate.
The Coffee Club
Your Happy Place!
Largest Australian café chain with a proven concept and 4 core store formats with close to 450 stores across fourteen countries in the Pacific, Asia and the Middle East. Offering variety of breakfast, lunch, dinner, snack and on the go offerings. We are a 30-year success story renown for good food, great service and excellent -coffee.
The Pizza Company
Flavored To Excite
The Pizza Company is one of the most loved brands in Thailand where we are Thailand's number one pizza restaurant chain for over 20 years and the true pioneer in food delivery business serving all-occasion, Italian-inspired meals with signature flavors.
Swensen's
Happiness Never Melted
Swensen's, Thailand's largest premium ice cream brand, is a beloved ice cream parlor established in San Francisco in 1948. Swensen's offers a wide variety of famous signature sundaes accompanied with other lines of exciting well-crafted products with an innovative range of inspiring novelty products to fit with customer's choices and various occasions.