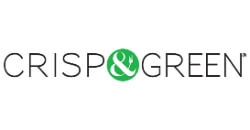 CRISP & GREEN
Scratch-made Salads, Grain Bowls, and Smoothies
CRISP & GREEN® was founded on the belief that nourishing your healthy lifestyle goes beyond the kitchen. It starts with chef-crafted, scratch-made food delivered in a convenient and hospitable manner, and continues with our commitment to create healthier and stronger communities through our complimentary wellness events. CRISP & GREEN isn't just a restaurant; it's a movement that helps guests be their best selves from the inside out!
Founded in late 2016, CRISP & GREEN is an innovative fast-casual restaurant that is changing the game in the wellness industry. Our Founder and CEO, Steele Smiley, has an extensive background in health and wellness and has opened thousands of businesses across the globe. CRISP & GREEN began franchising in 2018 and is growing across the US and Internationally.
When you become a part of the CRISP & GREEN network, you will receive world-class support to help you achieve your goals and invest in your community. We provide a passionate team of experts in both the fast-casual and franchising industries who are with you every step of the way, from the build out to opening day to your everyday operations, you are never alone in your journey.
Experienced Restaurant Operators that are well-capitalized and desire to saturate a market through direct franchising or approved master franchising arrangements