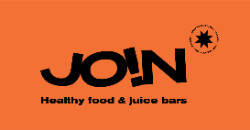 JOIN Healthy food & Juice bars
Way To Live
At the self-service bar we serve the most eclectic, nutritional and highly creative fresh squeezed juices, as well as a rich variety of healthy choices, such as smoothies, energy bowls, energy meals, salads, sandwiches, snacks and exceptional coffee for both sit-in and take-away consumption.
Two young brothers, John and George, dynamic foodservice entrepreneurs, created JOIN Healthy food and juice bars back in 2014. They started in their hometown, Thessaloniki in Greece and in 2017 expanded to Athens as well. Now, they strongly believe that their successful concept is ready to travel worldwide. They believe that body and mind must be in balance and harmony, and we should do what is necessary to achieve it. We should love life, people and nature, that generously offers us all its bounty. We are passionate about what we do and that is why we do it very well.
We offer 1 week training for the store personnel and an extended program for the franchisee management team, which is organized in our training center and stores in Thessaloniki, Greece. Opening support and on-site training together with ongoing support are continuously provided by our management team.