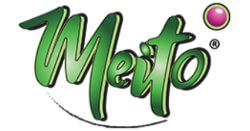 MEITO Café – Lounge and Bubble Tea
Get ready for the par-tea!
A 21st century cool, fun-infused cafe offering endless variety of low-cal Bubble Tea with a choice of mouth-watering popping bobas or jelly topping along with coffee-specialities, signature pancakes and waffles, freshly made snacks, sandwiches, smoothie bowls, salads and much more… #meitodrawsyouasmile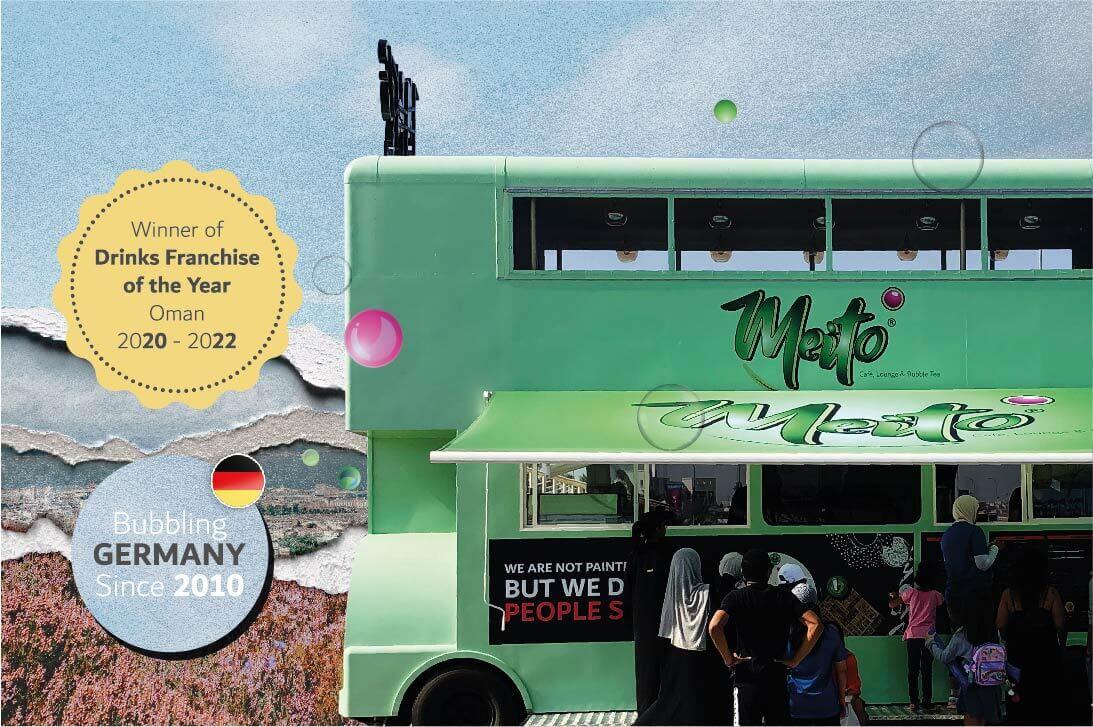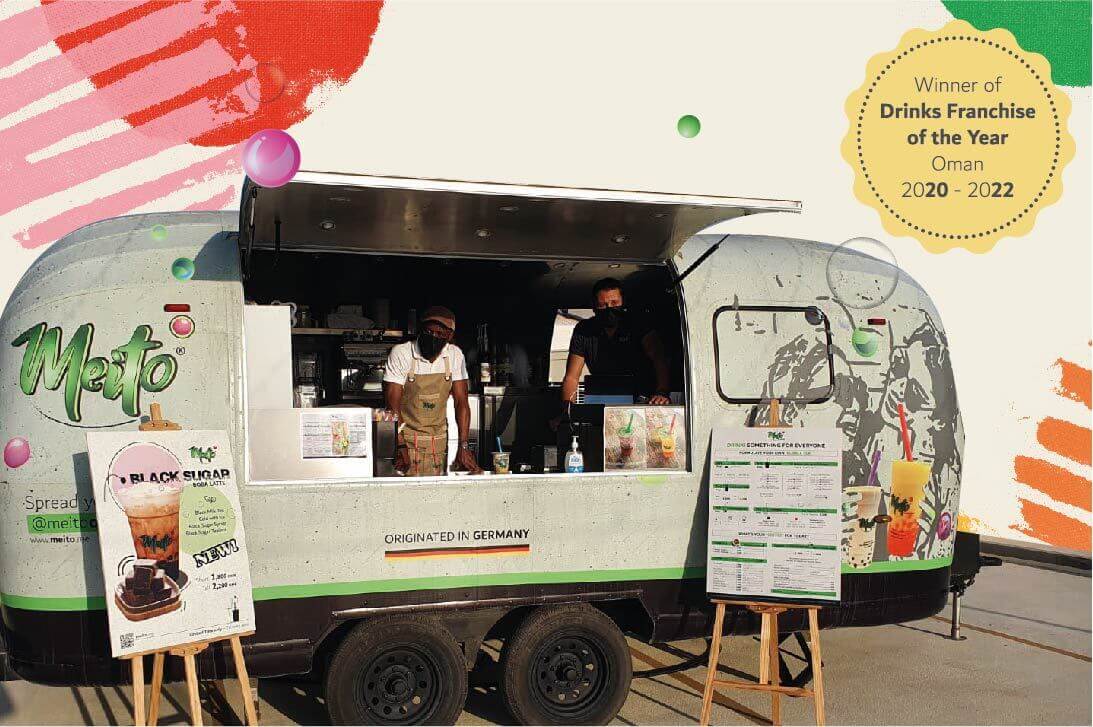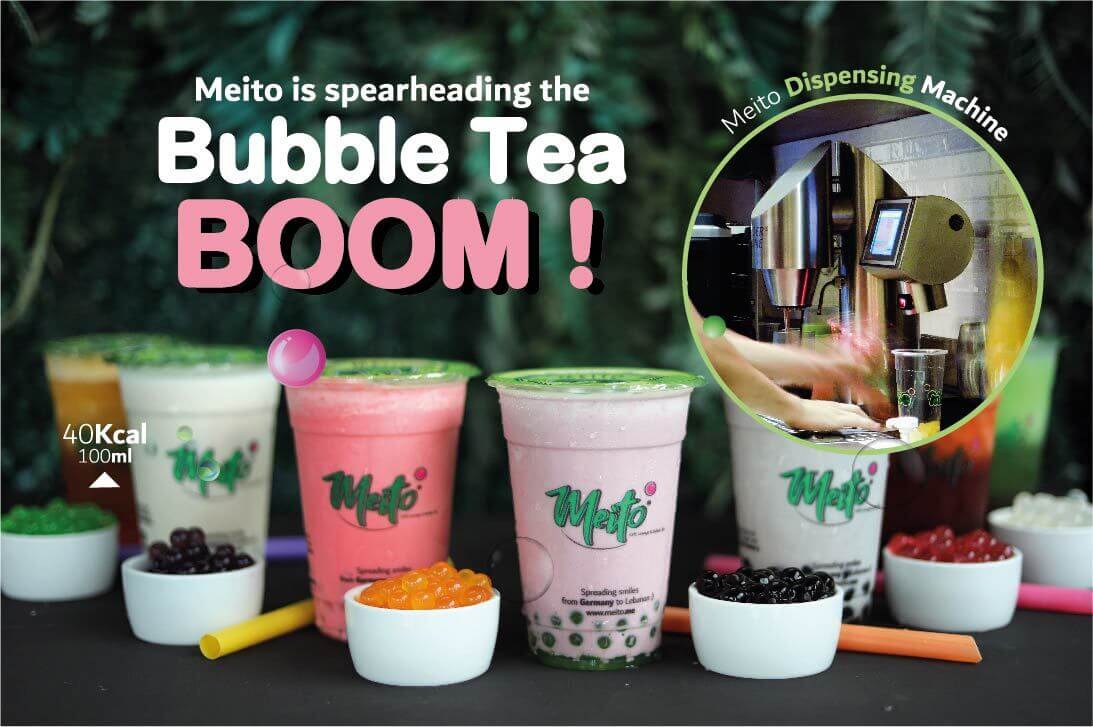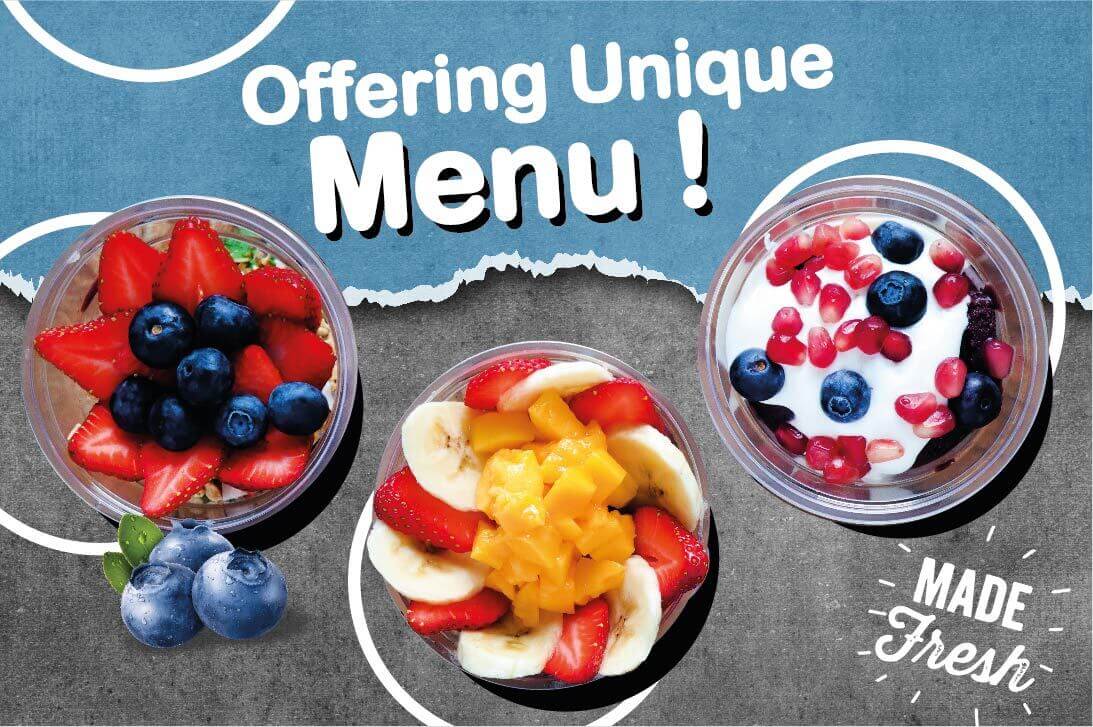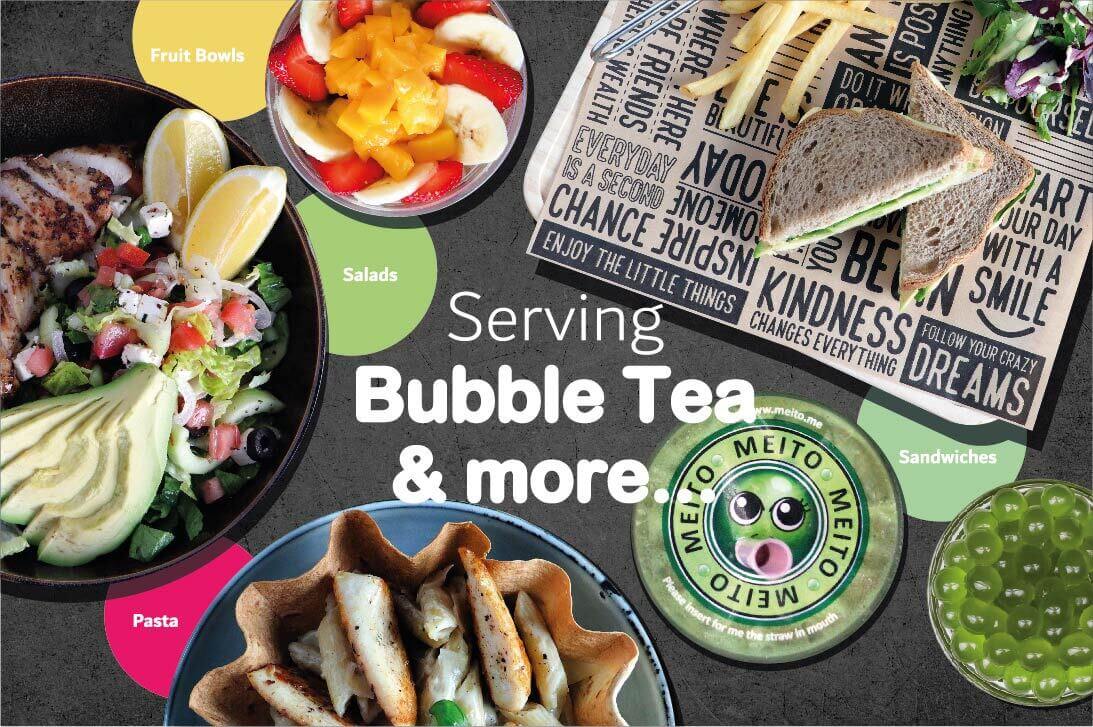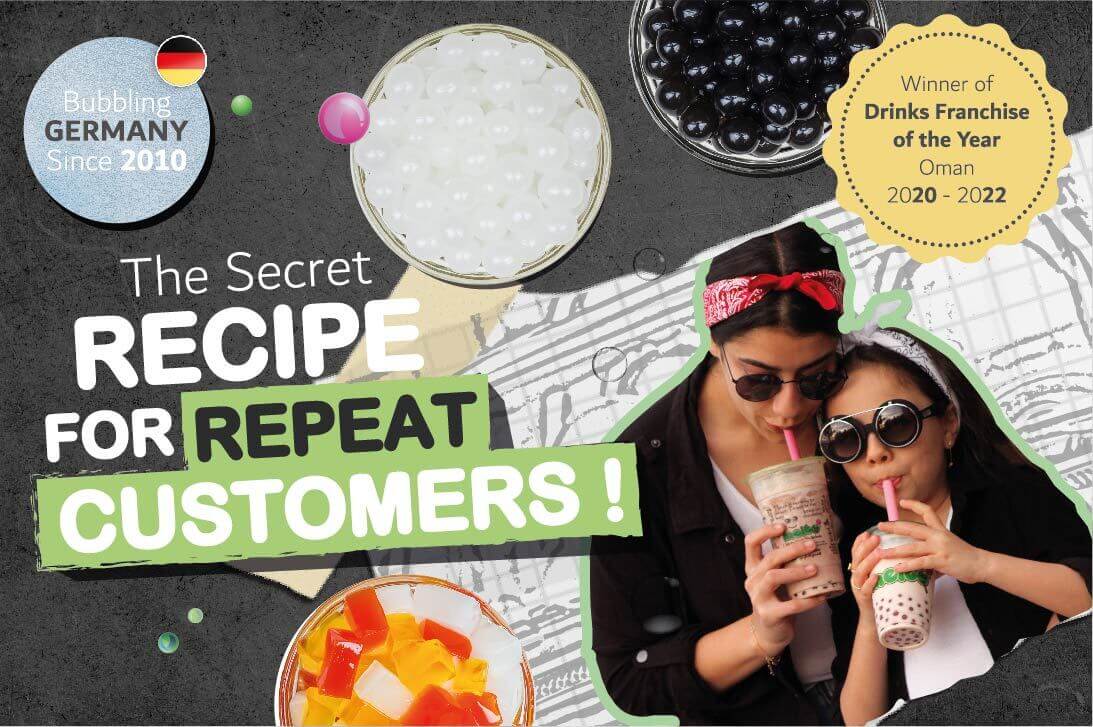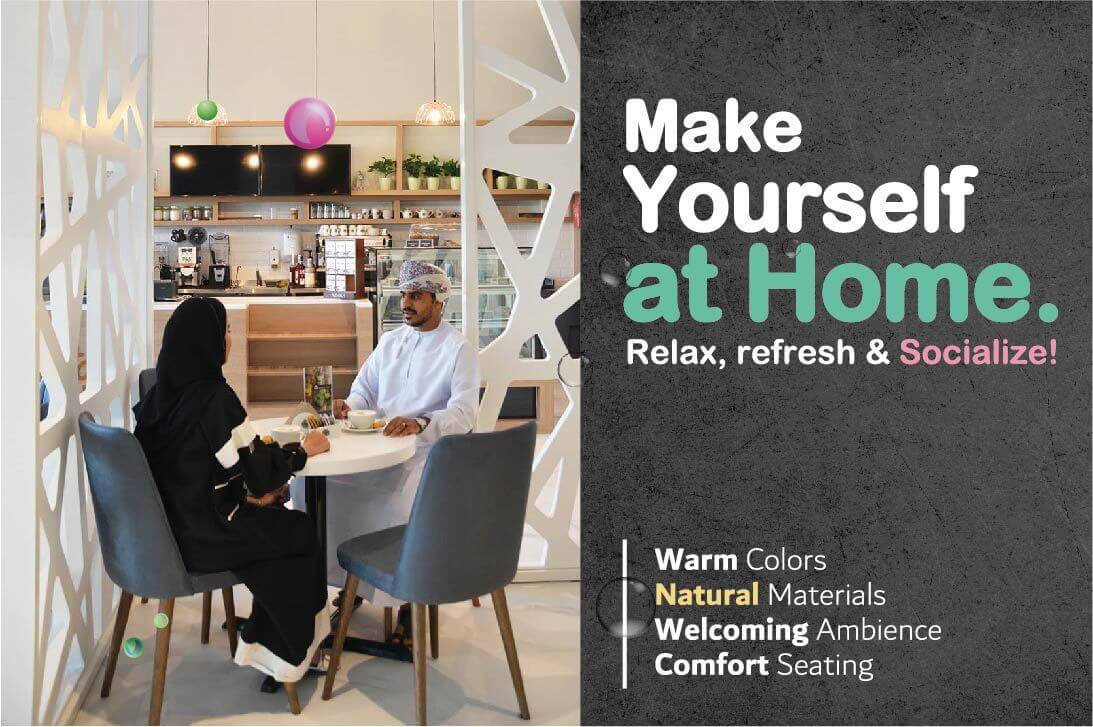 Unique Business Proposition:
Use of 100% organic tea leaves for our signature Bubble Tea drinks
Over 6.6 million awesome combinations of our signature Bubble Tea drinks
Passion for consistently awesome drinks and food
Fully customizable and calorie-conscious menu, creating a sustainable customer database
Proven franchise model with wide-ranging venue possibilities e.g. college campuses, airports, food truck parks, downtown and suburban locations
About the MEITO Cafe, Lounge and Bubble Tea:
Country of origin:
Germany
Welcome to MEITO
MEITO – time to feel good, where ideas bubble into mouth-watering yumminess as you socialize, recharge and refresh. Get popping our signature Bubble Tea, a stunning combo of low-cal tradition (tea base) and 21st century cool (fun flavours with a choice of popping bobas or jelly toppings). Along with our famous Bubble Tea, get sociable with our ultimate fuel food, from big-hearted burgers and sandwiches over salads to dainty, tasty bites and cheeky desserts. MEITO – your home away from home – fun-infused dink experiences, quality, light food and bubbling company Welcome to love and awesomeness! Welcome to MEITO! MEITO is available as 4 different Concepts. MEITO's Double Decker, MEITO's Mobile, MEITO's Express as well MEITO's Eatery.
MEITO Franchise
Be part of the MEITO family, and join the party.
First there was an idea. Then the idea bubbled into a business. We are looking for business partners to help build the MEITO brand together. When you join the MEITO community, you join the MEITO family, with our values of honesty, fun and fairness.
MEITO Cafe, Lounge and Bubble Tea Currently Operates in these Countries:
Germany
Oman
Lebanon
How we support you
Working together and succeeding together.
From identifying the best location for your new store to making sure your customers love it once it's open, we provide the support you need to make your business a financial success.
Meito operates a master franchise rights. This means that the franchisee has the right to use the Meito trade name and marks, and the right to offer Meito products and services in the agreed territory.
We offer a full turn-key franchise support package. Learn and launch in your own country/area quickly and with confidence.
We support you with:
Local market survey and recommendations
Best location selection
Two-week training for franchise partners and key managers
Internal store design and specifications to create that magical home from home
Support in supply of operating equipment, including all MEITO technology, materials, uniforms and merchandising
24/7 technical online assistance
Pre-and post-launch training
Awesome store publicity through our international advertising program
Support in marketing plans for super cool local and regional campaigns
Regular visits and technical assistance from MEITO team
Type of Franchises Offered by Internationally:
Investor Profile:
We are looking for partners who:
Have sales and management experience
Are passionate about the MEITO brand
Have a great network with good resources
Have a strong ambition to succeed
Want to be part of the MEITO family
Want to be part of the MEITO journey and its growth
Discover the advantages of the MEITO franchise program today!
MEITO Cafe, Lounge and Bubble Tea Franchise Opportunities Available in these Countries:
UAE
Kuwait
Saudi Arabia
Bahrain
Qatar
India
Turkey
Brand Manager: Winona Gagan – winona@worldfranchiseassociates.com | +971 56 116 2454