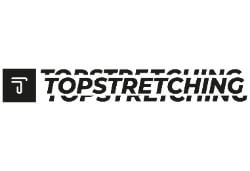 TOPSTRETCHING
Stretch Your Limits
TOPSTRETCHING is the first and largest chain of stretching & HIIT fitness studios for women in the world. TOPSTRETCHING workouts within a high-tech, neon and ambient team environment providing an immerse experience that would be relaxing but at the same time intense, fun, and fast, delivering guaranteed results.
TOPSTRETCHING is the first and largest chain of Stretching & HIIT training fitness studios for women globally. TOPSTRETCHING concept was created by the champion of rhythmic gymnastics, Anna Kanyuk, in 2002 and later incorporated into an international group of companies. Kanyuk remains the brand ambassador of TOPSTRETCHING and has become the #1 beacon of flexibility gloabally (1.4M).
TOPSTRETCHING now is the community that counts more than 10 million women, who were not satisfied with commercial gyms and "for everyone" fitness studio concepts that lack innovation and results. TOPSTRETCHING studios are all about promoting health, spirituality, warmth, hospitality, curiosity, creativity, and energy, all of which render the space attractive and create a sense of belonging.