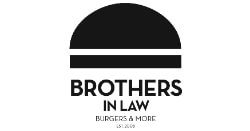 Brothers in Law
Casual Flame Grilled Burgers Restaurant – Burgers & more
Brothers in Law is a fast casual burger restaurant, offering freshly made premium burgers, veggie burgers, special platters, wraps, club sandwiches and salads. It has an open style kitchen, friendly table service with a cool design and atmosphere and a dynamic personality.
Brothers in Law was founded by Stelios, a successful restaurant entrepreneur and his brother-in-law Timmy, a well-known chef. They created Brothers in Law in 2013, in their hometown Thessaloniki, in Greece and now they want to expand their successful concept worldwide. It all started from their desire to taste top quality burgers. They keep focusing on best quality materials, excellent customer service and full respect on society, environment, employees and customers.
Our Training program is an intense 2 week program for the kitchen and service personnel and 4 weeks for the franchisee management team. The program is organized in our training center and stores in Thessaloniki, Greece. Opening support and on-site training together with ongoing support are continuously provided by our management team.