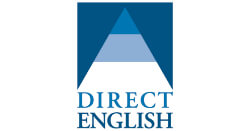 Direct English
World-class English curriculum with premium methodology
An innovative, interactive and engaging learning platform combined with a premium UK curriculum and native-level English teachers. Our partners can run a hybrid model (physical schools + online) or online business only. Our business model can allow a partner to scale up to 8 times in 6 months, proven by case studies.
With a presence in over 20 countries, we help students expressing their full potential and becoming the leaders of tomorrow through our premium quality curriculum, in-school programs, English live lessons and interactive platforms. Backed up by a solid UK curriculum designed by the award-winning author Louis Alexander, we cover all 4 English skills allowing students to become confident English speakers to thrive in multi-national companies and international environments. With a cutting-edge platform and a premium quality training for teachers worldwide, we are proud to be among the top English training providers. The quality of our program allow to be implemented worldwide maintaining the cultural nuances in each country.
We provide all our partners with: – Interactive Online Learning Platform – Operations Manual – In-country or online training for your teachers before launching your schools – Native-level teachers – The technology for tracking student performance and admin tools – Personal business development manager support – Marketing campaigns and strategic marketing support
Our ideal candidate: – comes from IT/HR/tuition franchise or schools, or wants to diversify their investments from Hospitality or Estates, or has publishing or kindergarten background or is a driven MBA entrepreneur who wants to start her/his first online business. – is aiming at many locations nationwide or gaining many students through the online program – wants to bring an innovative and premium UK curriculum to the country – is a driven and ambitious entrepreneur/team – NO PREVIOUS SCHOOL BACKGROUND NEEDED to succeed.