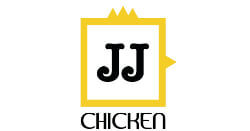 JJ Chicken
Fast casual, authentic hormone-free, grain fed, charcoal-grilled chicken.
With 11 branches and 1 food truck in UAE, JJ Chicken is the only fast casual restaurant serving authentic charcoal-grilled, 100% hormone-free, grain-fed, freshly- prepared chicken meals, while offering value for money.
Created in 2010, JJ serves charcoal grilled chicken meals that cater for a balanced diet in a quick-service environment. With a variety of items ranging from salads, appetizers, sandwiches to platters, it is currently operating 11 shops and 1 Food Truck in the UAE with several more units to open in 2021. Our chicken is freshly marinated daily and charcoal-grilled on order. All sauces are freshly homemade with no preservatives. All chicken is hormone-free, grain-fed and halal.
JJ Chicken was able to gain a huge popularity in the UAE market in a very short period and became the top-of-mind place for Chicken and one of the fastest growing fast casual concepts. Despite the pandemic, JJ Chicken opened 2 new shops and continued to deliver food safely to its customers.